January 5, 2017 at 9:48 am
#8127
I want share an example of macro for BF1 using the current 3.9
I didn't used  "Weapon Database", because you will not see the correct name in the status when the macro is enabled.
Sensitivity 10%
of course if you 're using a different value in game, you can customize Y as well. For example if you 're using 20% you can set y= -20 and -23 ,5% Y =-80 and -110
Class : Medic
Rifle : Selbstlader 1916 Marksman
ROF : 225
MagSize: 26
Autoburst ROF: default value is 134 that i have Modified on 150 for up and down values, this minimizes the spread and random values. You can set 267 on up and down and remove macro values to eliminate the spread totally but is very slow, just to use in long range i suggest to create a new macro for and use when need. In MSE 4.0 we can use multiple AB for a rifle(vip feature).
SMWI : Max wheel position 2. This doesn't works as i would for SKI but works good for SMWI. In fact i have binded the key 3 , where i have the medical crate, so i have to press 1 all the time or better if you scrolls up the wheel to get rifle. In MSE 4.0 this is fixed as i seen 🙂 .
SKI  : Enabled + Revive macro on KEY 7 ( i have binded on my mouse the key 3 for mediccrap and 7 for revive) Revive macro works very well 🙂 im happy for it
AimMode :  as image below, this help you in hipfire
GetPrimary : enabled (is important for ski and smwi and usefull)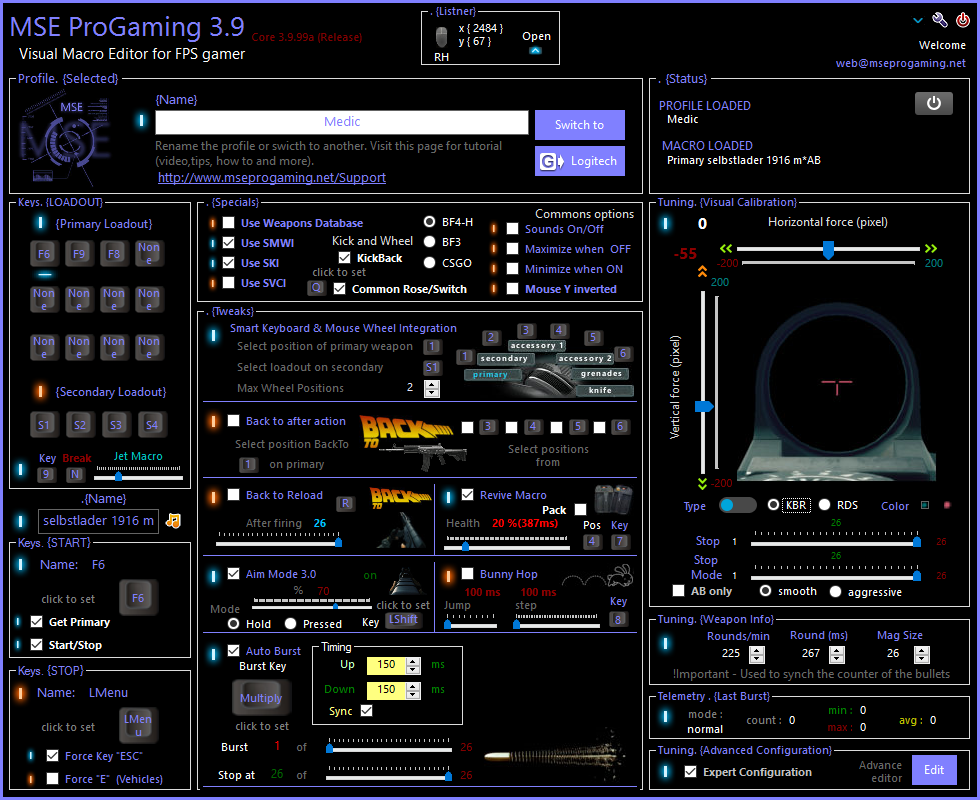 Expert:  Enabled ; first bullet on -40; all others on -55 and remeber to press the button -> "All Custom"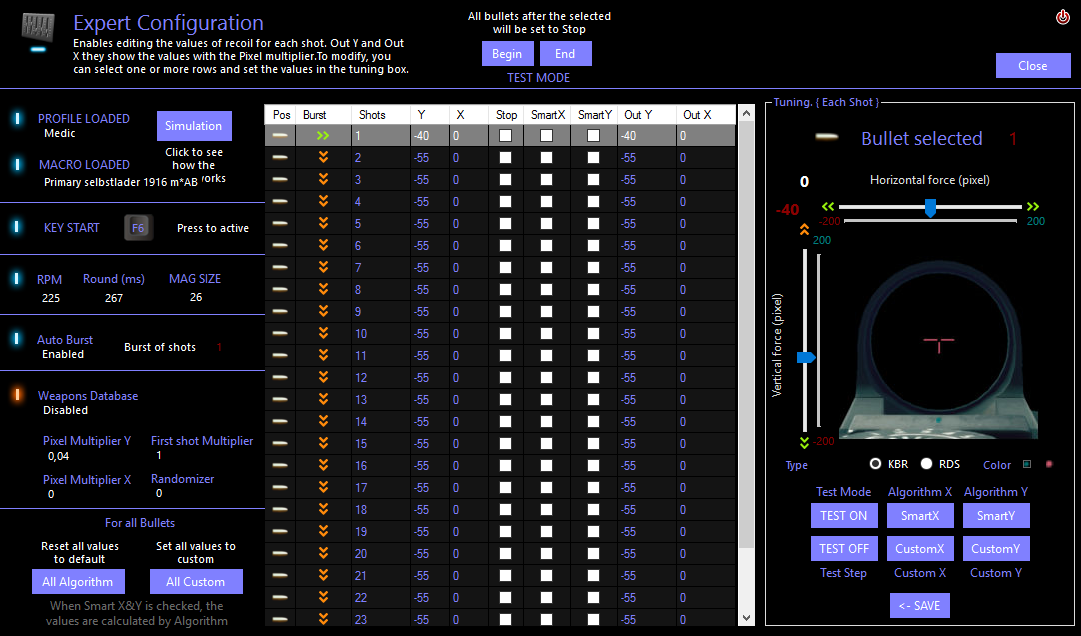 HighLighted settings
As secondary i have configured the best balanced pistol, M1911
ROF : 300
MagSize: 8
Vertical : -40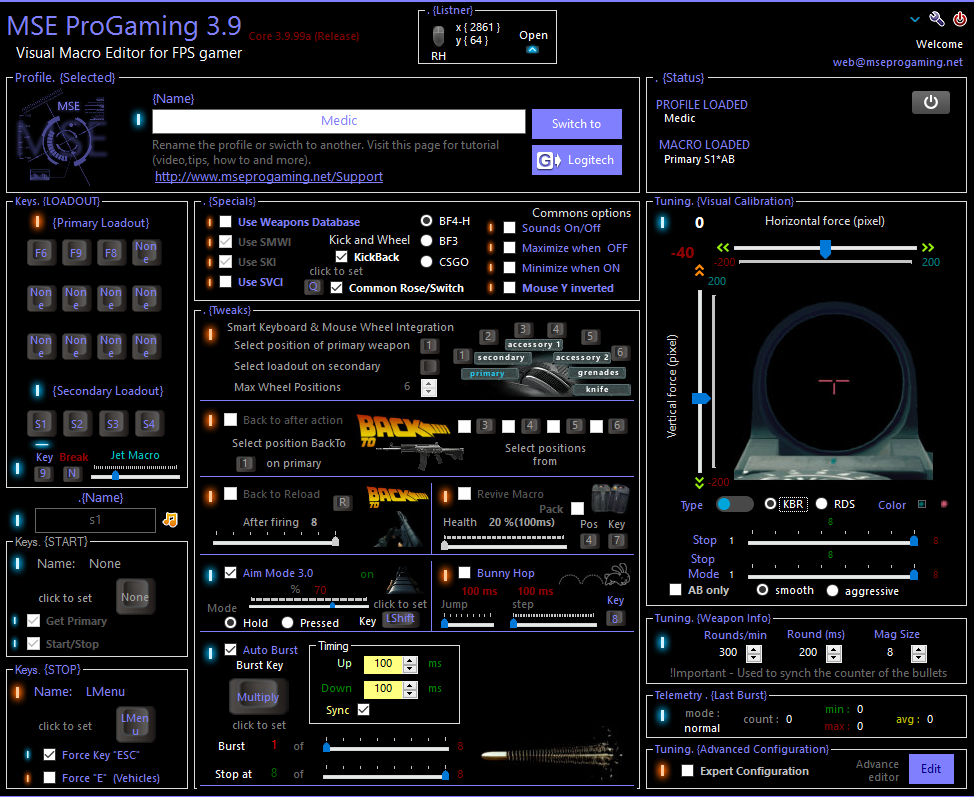 Also in F9 i have configured the Selbstlader with the default ROF to use in close combat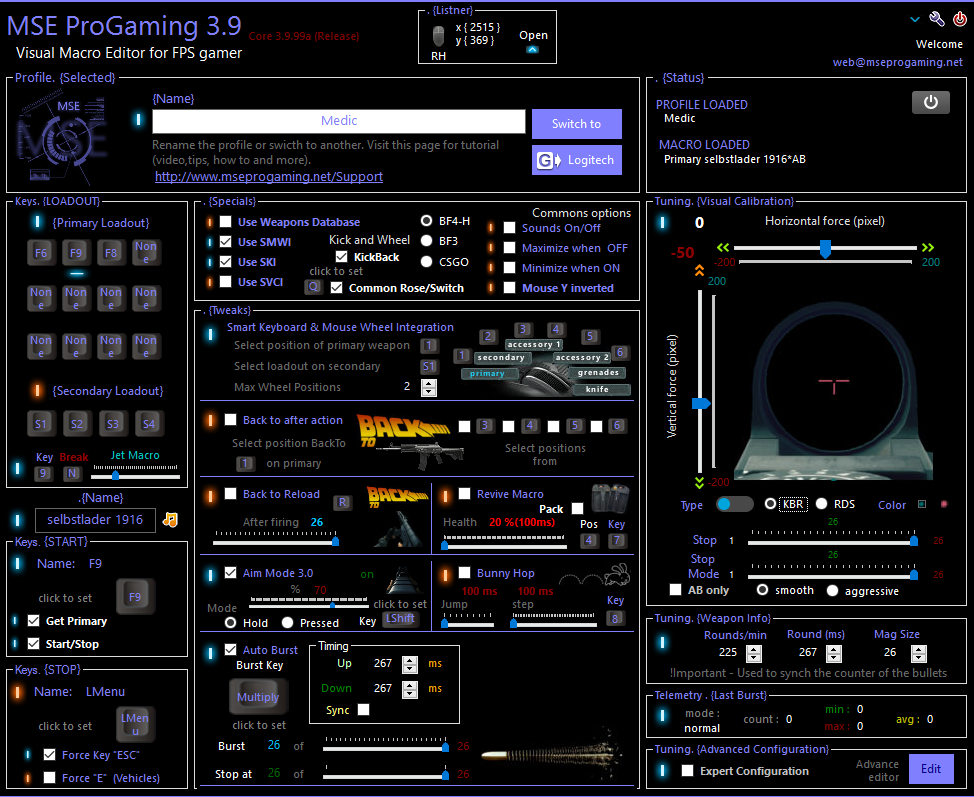 What else? Maybe i missed some … ?
Anyway for any question I'm here to help all of you to make any macro for any rifle for BF1.
Try this and tell me if you start to boost up your medic class in BF1.
Alex
:3
At the end i want add this: MSE 3.9 works well , but of course to use on any game we have to merge the acknowledgement of game with the acknowledgement of MSE.
Maybe this is not easy for all, but ask for it it's free 😀
Keep patience for MSE 4.0, because is not a project BF1 oriented, but is a new platform Macro for FPS Games and not only in the future.
As community , the time will come, and I assure you very soon, that we all could work and customizing our MSE as we want, sharing ideas , adding new feature and improving the product .