Macro for BF4 BF3 CSGO COD – MSE Progaming Client ver ver 1.3.9.99a core 3.9 – 1 Years
MSE progaming is a universal low-level drivers for keyboards and mice, developed with . NET 4.5 ( only requirement) . This makes it usable on any keyboard and mouse on the market, with each type of processor x86 or x64 with any FPS game , and is compatible with all versions of Windows Desktop PC.
Developed exclusively for the creation and management of macros simultaneously in FPS games , from way back in 2005 with Battlefield2 , the project was initially made ​​available only to experienced players in our community . Thanks to the collaboration of PRO PLAYERS has been possible over the years, adding new features, unique and never seen again in other similar products, which make it the best visual editor macros for mouse and keyboard for PC
Product Description

1 Year Subscription (365 days) – 1YS
Immediately after your purchase, you can download the client from your account page.
if you have not received the email order confirmation, check your junk mail. Within this you will find the download link.
-How to buy
PayPal
Credit Card VISA/MasterCards – powered by stripe
PayPal / Credit Card Instant delivery   – RECOMMENDED
If you choose to pay via pay pal or credit card , you will receive a confirmation mail and you can download the client immediately.
Donation (slow method ,24/48 hours max) – NOT recommended
After completing the order, Make your payment using donation button entering the amount of the product.. Please use your Order ID as the payment reference. Your order won't be shipped until the funds have cleared in our account.
-Installation
if you have not received the email order confirmation, check your junk mail. Within this you will find the download link anyway go to your account page where the download is available.
(https://www.mseprogaming.net/my-account/)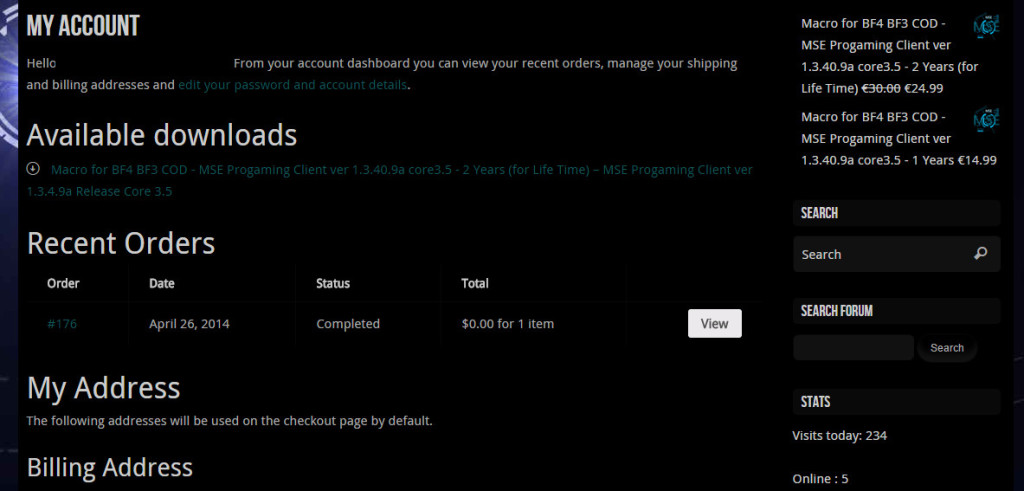 you are welcome 🙂
Obtained the compressed package, you will have to extract the contents into a folder.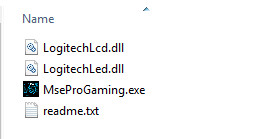 The choice of the folder is very important, because you should not change, when you will download the new versions and updates.
run as Administrator!
When you launch the program for the first time you will see this screen: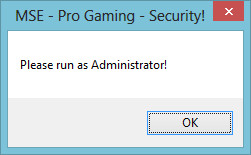 we advise you to change the settings of the executable file to select "run as administrator" each time, as the figure below: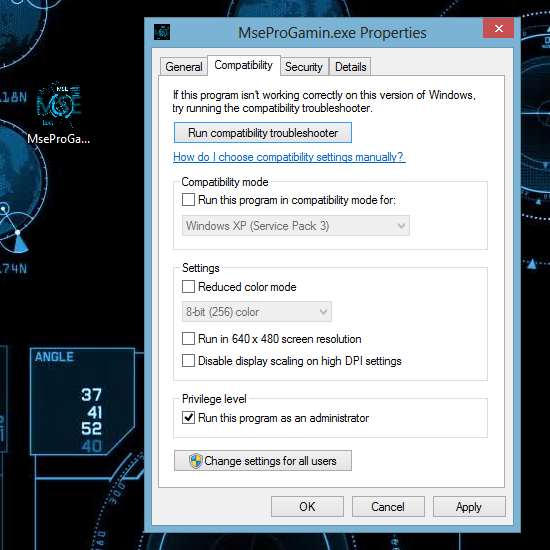 MSE – Anti Detection System!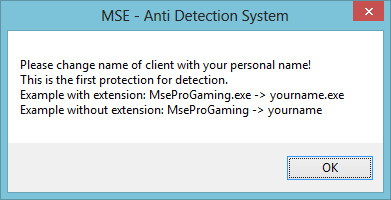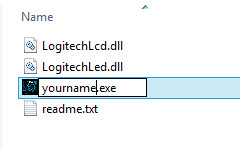 The first thing to do is rename the executable file, choosing a name.
Obviously we do not recommend to use names like, "hack.exe", "macro.exe", "norecoil.exe" … but it is your choice.
This prevents that an executable with the same name is used by many users. 😉
Choose a nice name !
MSE – Activation!
When you run MSE for the first time on your PC, you will see a window of activation.
Wait 10 seconds and run the client again.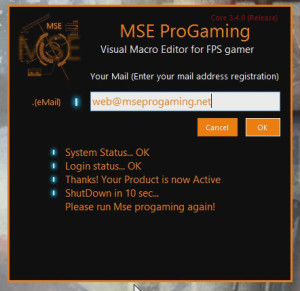 The second time you will have access to the interface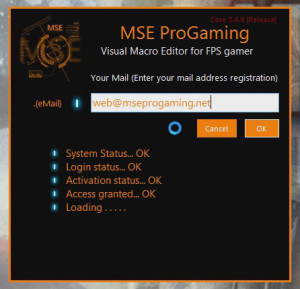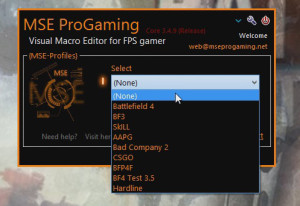 If you need to repeat the activation process, for example you have changed your PC, you can run yourself the steps at this link
-> https://www.mseprogaming.net/forums/topic/hardware-locked-help-me-please/
[Video tutorial]
http://youtu.be/as_TcPIB3dc
Tip: When you have access to the interface, go to options and check remember me.
"Features"
Dynamic interface graphics
When you activate a loadout, the GUI is reduced only showing the status and information on the screen.
Very useful if used on a secondary monitor.
Customize everything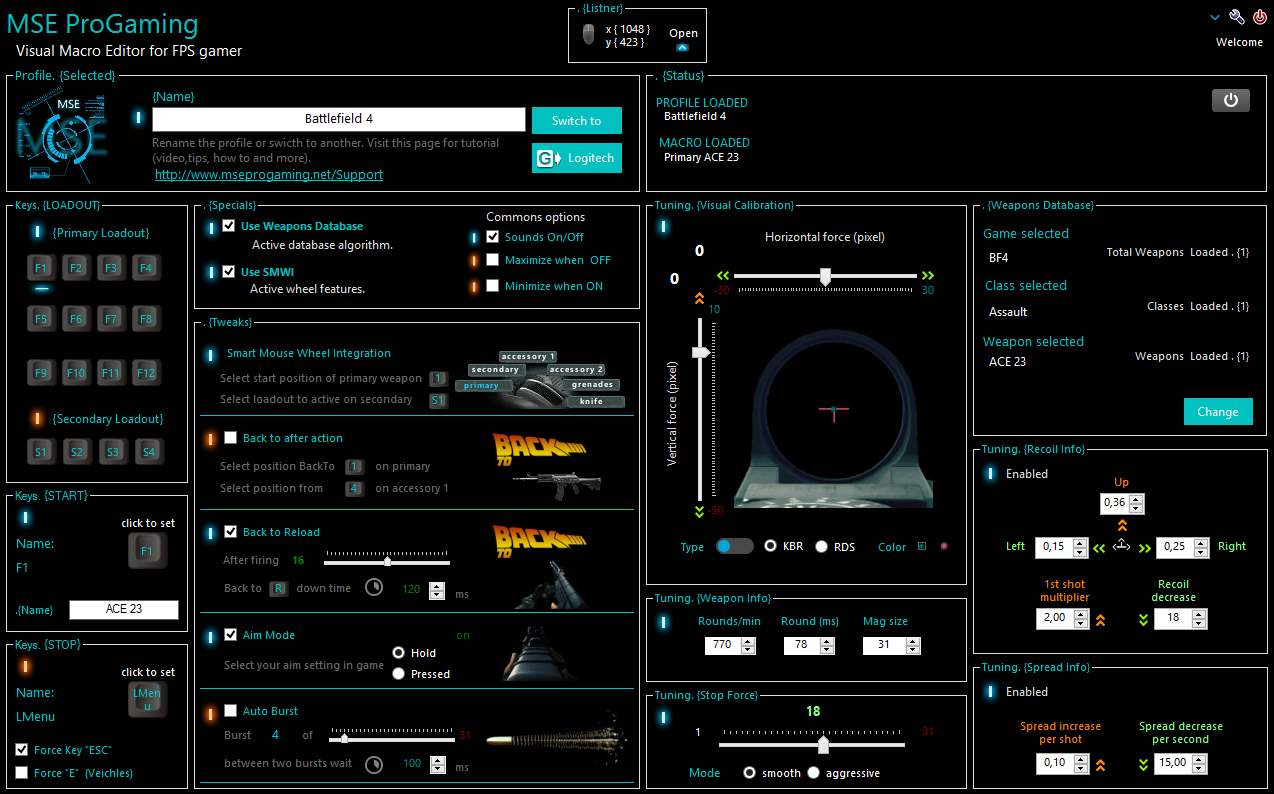 In MSE Progaming you can customize everything, but it is also easy to use.
Its main feature of visual editor allows you to create the most complex macros without writing on the keyboard. Everything can be modified only by the mouse.
This software can be used by everyone, both from the player who plays for the first time that the old  expert player.
Options
Remember Me!
Checking this option macro program remembers the initial login, so you do not have to rewrite it on every boot.
5 ON/OFF Sounds!

Auto detect resolution
The screen resolution determines the area of the mouse movement. So this parameter has a direct influence on the functioning of a macro. We recommend that you check the auto-detection, but it is possible if it is necessary to set a value between those that can be displayed on your graphics card and monitor.
Show Notify when minimized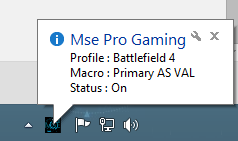 Macro Mse minimizes the GUI (Graphical User Interface) , when activated a loadout. This is to ensure the highest performance. You can also choose whether to minimize the program when is activated a loadout and also restore the window when a button  Stop is pressed (reccomended if you are in testing mode).
 Always on Top
With this option Macro Program will always be visible , when you're not in the game, the default is false as it is very useful only during adjustment of the loadouts in game.
UI color (User Interface color)
 MSE Progaming is available in the  colors above.
9 customizable game profiles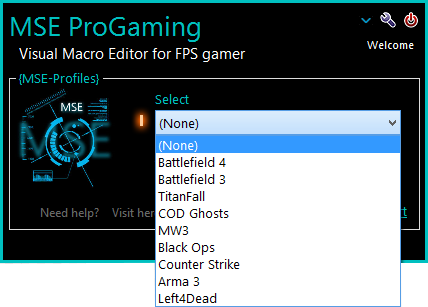 Possibility to customize each profile for your games
Auto Save on exit, every time you exit the program settings will be saved automatically.
16 Keyboard Macro Key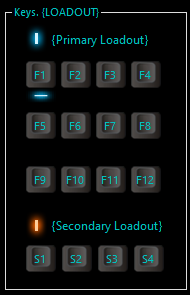 12 Customizable Keys for primary weapons loadout and
4   VirtualKeys for secondary weapons loadout.
All macros can be activated without leaving the game.
Listner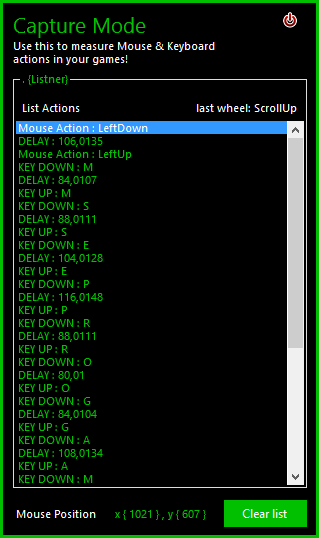 Capture window to view and analyze the actions and the movements of the keyboard and mouse in game to make a perfect macro for bf4 , bf3 , cod and all games.
Undetectable
Anti-detection is included
But i regret to tell you that i will not say more info about… here!

Supported Operating System*
Windows 7 Service Pack 1, Windows Server 2008 R2 SP1, Windows Server 2008 Service Pack 2, Windows Vista Service Pack 2
Windows Vista SP2 (x86 and x64)
Windows 7 SP1 (x86 and x64)
Windows Server 2008 R2 SP1 (x64)
Windows Server 2008 SP2 (x86 and x64)
Hardware Requirements:

1 GHz or faster processor
512 MB of RAM
3 MB of available hard disk space
* Windows 8 include .Net 4.5